Affirmations are positive statements that describe a desired situation. When repeated often, they are impressed on the subconscious mind.


Is it time to have a little chat with YOUR subconscious?

The process of using affirmations pushes the subconscious mind to take action and to strive to make the positive statement come true.

We all repeat negative words and statements in our minds concerning the situations and events in our lives. Words work to build or destroy. It is the way we use them that determines whether they are going to bring good or harmful results.

Your subconscious mind accepts as true what you keep saying. It attracts corresponding events and situations into your life. So why not choose positive statements, in order to get positive results?

Are you using negative statements, such as:

I cannot do this.

It is just too hard.

I'm not strong enough.

I am going to fail.

Are these, or similar words, running through your mind? Then it's time to give your subconscious a new mantra!

Science has proven that positive self-talk definitely brings about changes in the brain.

Whether you are a beginner to affirmations or practice them frequently (and would like to refresh them), here are 10 powerful affirmations that could change your life.


I am releasing that which no longer serves my highest good.



I am Healthy. I am generating new, perfect cells in all of my body.





I am calm and relaxed in all situations.





I am easily manifesting my needs and wants into my reality now.





I am in control of my thoughts and actions.





I embrace love and happiness.





I am successful in all that I do.





I am discovering new and wonderful things about myself every day.





I am receiving more wealth and abundance into my life now.





I am finding it easier to love and accept myself completely.

By stating what you want to manifest - what you want to be true in your life - you will feel and intend it to be true. No matter your circumstances - you will attract these things into your life.

Some of these affirmations are transitional. We can't always go from a feeling of denial or disbelief when stating an affirmation to a feeling of it being real and true. Sometimes we need a bridge. That's where transitional affirmations shine!

Feel free to customize these affirmations to meet your needs or to create new ones! If you have any questions or would like a little guidance please feel free to contact me - I'd be happy to help!

---

Supporting you on your journey,

Powered by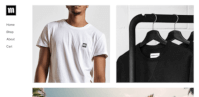 Create your own unique website with customizable templates.